The City of Madison is able to trace some form of organized fire protection back to World War II when Bruce Campbell Field on Old Canton Road was a training facility for foreign pilots.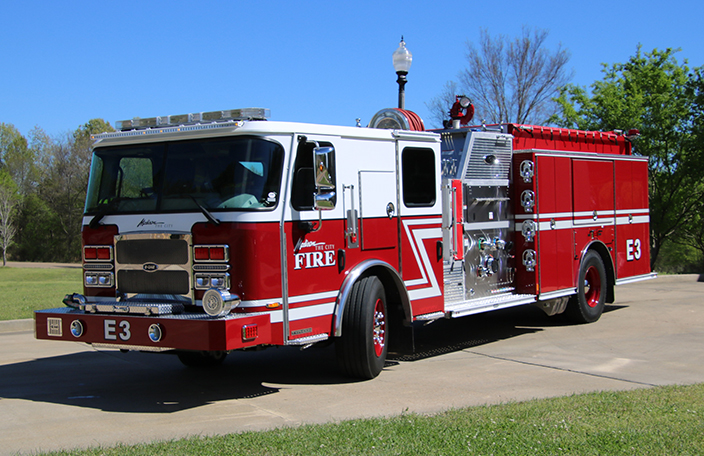 When the airbase closed at the end of the war, it was turned over to the City of Madison to become a general aviation facility. At that time two 1946 fire trucks were left with the base for firefighting purposes. These trucks were housed in a wood frame structure just north of the current hangers on the airfield. Since that time our department has expanded considerably. Two stations, one on Old Canton Road and the other on Highway 463, provide protection for the citizens of Madison and the outlying county area.
Our stations house two Fire Engines, one 3,000-gallon Tanker, one 75-foot Ladder Truck, one Rescue Truck, two Swiftwater/Dive Boats, one Dive Equipment Trailer and one Trench Rescue Equipment Trailer. This equipment is staffed by 36 paid Firefighters.
The Madison Volunteer Firefighter's Association served the City of Madison for years as an All-Volunteer Department until the late 1980's. In the late 1980's the Mayor and Board of Alderman hired a fulltime Fire Chief. The Fire Department continued to function as a Combination Fire Department with both Volunteer Firefighters and Career Firefighters until 2012. In 2012 the Madison Fire Department transitioned in an "All Career" Fire Department.
Car Seats
All Madison Fire Dept. personnel are certified car seat technicians. We will be glad to show you how and help you install you child's car seat, free of charge. We prefer that you bring your child with you so that we may properly fit them for their seat. However, if you are unable to bring your child, we can teach you how to adjust the straps so they will fit your child properly. You may come to either Station 2 or Station 3. It is not necessary that you have an appointment, but you may want to call ahead so that we can plan around your arrival. Also keep in mind that, because of the nature of the Fire Service, we may be out of the station on a 911 call when you arrive even if you have called ahead. We apologize if this causes any inconvenience.
Car Seat Laws in Mississippi
Mississippi has a primary seat belt law. If law enforcement sees you without a seat belt they can and will pull you over! Car seat laws vary from state to state. Our law says that children from birth to age 4 are required to ride in a correctly installed car seat. At age 4 up to age 8 children under 65 pounds or 4'9" in height are required to ride in a booster seat. Other car seat tips:
Children are safest in the back seat until at least 13 years old
Read directions for your car seat and your vehicle before installing your car seat. If you still have problems, let a certified car seat technician help you.
Children should remain rear facing in the seat until they are two (2) years old.
When buying a car seat, check to see how easy it is to use.
Never buy a used seat! It could be damaged or recalled!
Never leave your child unattended for any period of time.
Children ages 4-7, 65 lbs. or 4'9″ are required to sit in a booster seat.
Child reminder examples – purse, backpack, cellphone – anything you would normally get out of the car that would remind you to look in the back seat.
If you are taking or picking up a child and it is not part of your routine, use a reminder that you have precious cargo in the back seat!
Community Education
Prevention Through Education
The Madison Fire Department is dedicated to serving the community. To do this, we offer a variety of programs:
Car seat installation assistance – if you have questions concerning the correct installation of your child restraint system, you can stop by one of our stations and we will show you how to correctly install your car seat. The hours are: 8:00 am – 6:00 pm every day.
CPR and First Aid Training – this will help you prepare for an emergency. Great for schools, daycares, churches, boy scouts and girl scouts.
Home Safety Hero – this program is for boys and girls from starting at age 8. The will learn what to do in an emergency, how to make their home safer, babysitting tips and more. This is a great program for children who may be staying alone or babysitting. The cost is FREE! Every child has hero potential!
Safety assessments for babies or the elderly
If you are interested in any of the programs we offer and would like to set up a class, please call Lisa at 601-856-8894.
Resources
Information about fire training and safety issues can be found on these links:
Madison Fire Dept. Headquarters
601-856-8894
Madison Public Service Complex
1239 Hwy51
Fax: 601-853-2552
Station 2
601-856-4354
7466 Old Canton Rd.
(Across from Ridgecrest Baptist Church)
Fax: 601-605-1327
Station 3
601-853-6771
1353 Mannsdale Road
(Hwy. 463 - Next to Madison Middle School)
Fax: 601-853-6771